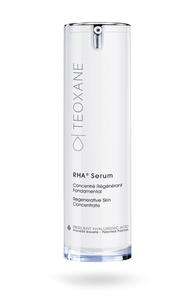 TEOXANE RHA SERUM
Regular price
Sale price
$120.00
---
Core Formula***/****
A selection of synergetic active ingredients for an efficient response to skin aging.
•RHA Resilient hyaluronic acid® - Maintains and protects skin hydration lastingly
•Dermo-Restructuring Complex Cocktail of amino acids, antioxidants, vitamins and minerals - Revitalizes skin quality
•Disodium Acetyl Glucosamine Phosphate - Natural constituent of Hyaluronic Acid - Fights the appearance of wrinkles, the skin appears visibly younger
•Sodium Hyaluronate - Hydrates and plumps
•Tamarind Extract - Hydrates and smoothes
•Alteromas ferment extract - Tightening and anti-wrinkle effect
From 14 days, signs of skin fatigue disappear.**
Smoother, skin regains its ability to reflect light, complexion is brighter.**
Skin becomes plumper and more toned.**
*Clinical evaluation of the cutaneous tolerance and efficacy of a cosmetic product.
**Self-assessment carried out on 31 volunteers by an independent laboratory during 28 days.
***The properties of ingredients are stemming from data communicated by the manufacturers of raw materials.
This highly acclaimed serum has highest concentration of TEOXANE's unique, hydrating and patented RHA® technology. It has been carefully formulated to improve a dehydrated, dull or aged skin complexion. Suitable for all skin types, the blend of remarkable antioxidants and anti-ageing ingredients help reactivating skin's natural mechanisms of deep regeneration*. From 14 days, the skin is smoother and more toned, your complexion is brighter, and your hydration is visibly improved**.
Apply a small amount to a freshly cleansed face and neck once or twice a day to help strengthen skin matrix and to improve and retain hydration. eave to absorb for two minutes before applying ADVANCED FILLER or ADVANCED PERFECTING SHIELD.
Pre - post aesthetic procedures recommendations:
Use morning and evening daily for 1 month before aesthetic procedures to help strengthen skin matrix and retain hydration.**
Use multiple times per day to soothe skin and help reinforce skin matrix after aesthetic procedures.
Hydrating & pumping 
The highest concentration of Teoxane hydrating and revitalizing remarkable ingredients combined with antioxidants for a visible anti-ageing benefit.